Reasons to Make Abu Dhabi Your Next Travel Destination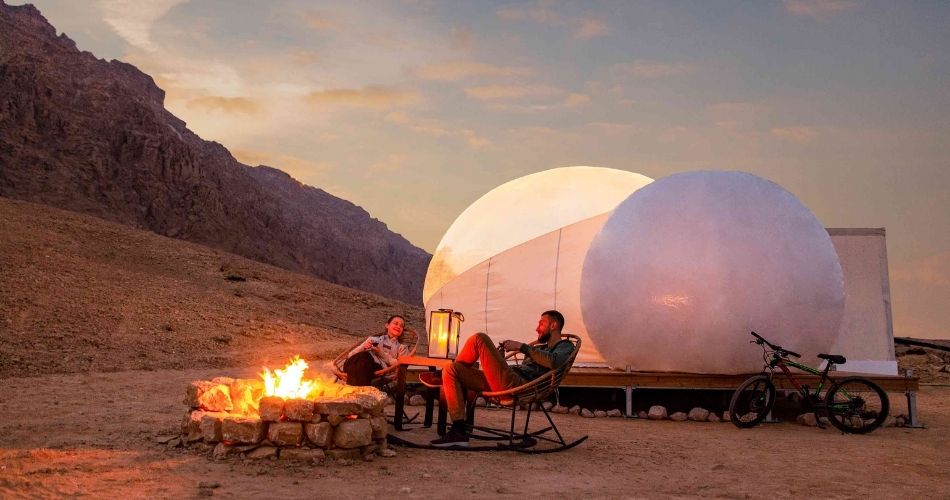 Why Visit Abu Dhabi?
Although the reasons to visit Abu Dhabi might vary from one traveler to the other, there is usually a common ground for everyone. Here are a few of the popular reasons why you should confirm Abu Dhabi for your next holiday getaway.
Abu Dhabi has established a reputation as the ideal vacation spot for travelers seeking thrills and excitement. There are several events to get your heart racing, from diving deep in the Arabian Gulf to flying high in a hot air balloon. When you leave the huge city, you will find a stretch of sand dunes that seems to go on forever. This is Rub' al Khali, the biggest sand desert on Earth, sometimes known as "Empty Quarter." Take a 4x4 safari through this enormous wilderness and go dune-bashing for the most exhilarating experience of your life. Alternately, go skiing on the golden hills for a more warmer experience than what you would experience in the Switzerand mountains.
Cultural Oasis
UAE citizens take great pride in their past, which is deeply steeped in Arabic customs. Visit the souks, lively marketplaces where traditional and modern cultures combine in all their genuine splendour to create a singular sensory shopping experience.
Anyone who has visited both Dubai and Abu Dhabi will accept that the capital of UAE is significantly more traditional than Dubai, which attracts a much greater number of tourists. Visitors will become more used to local culture in Abu Dhabi since they will interact with them more frequently. The finest spot to view Emirati attire, customs, and traditions is here in contrast to Dubai, where foreigners and other tourists are likely to be present.
Beach Paradise
Abu Dhabi is a popular beach destination not only because of year-round sunshine and minimal rainfall but also because there is a beach for every mood. If you wish to enjoy a beach day with your famiy then the Corniche Beach is the right spot for you. It is not ony in the vicinity of many popular hotels but also has the blue flag signaling cleanliness and water quality, and lifeguards. The stunning and tranquil white sand beach on Saadiyat Island's 9km natural beachfront is ideal for a day of leisure and rest. It is also free of any development to conserve the endangered hawksbill turtles and the soft sand. If you like to go all out and have some fun, Yas Island's white-sand beach boasts a plethora of water and shore activities from stand up paddle boarding to beach volleyball.
Entertainment Hub
Abu Dhabi more than lives up to its image as the UAE's entertainment hub, day or night. The hotels in Abu Dhabi offer some of the liveliest entertainment and dining choices at night. Travellers can enjoy performances by renowned musicians, dancers, comedians, and illusionists, especially during the Abu Dhabi Summer Season. There is a fantastic and varied entertainment schedule available from July through September for both adults and kids.
Breathtaking architecture
Abu Dhabi is home to some of the most ambitious architectural achievements that have been created by some of the world's leading architects and designers. From the gravity-testing Al ar Headquarters to the distinctive splendour of the Emirates Palace; from the cutting-edge Capital Gate to the serene Sheikh Zayed Grand Mosque, Abu Dhabi is a treasure trove for architectural enthusiasts.
Places to Visit Abu Dhabi?
Are you thinking "is it worth visiting Abu Dhabi?" this section of our blog is going to answer your question. Abu Dhabi has numerous attractions to cater for travellers of different tastes. From shopping to culture, history to nature Abu Dhabi will never dissappoint you! Here are some places you must visit in Abu Dhabi and the answer to your question, "what not to miss in Abu Dhabi?". Although these aren't the only places to visit Abu Dhabi, it is definitely a good starting point.
1. Louvre Abu Dhabi
Attraction type: Culture/Museum
For lovers of art and culture, a trip to the majestic Louvre Abu Dhabi on Saadiyat Island, designed by Pritzker Prize–winning architect Jean Nouvel, is a must. There is a permanent exhibition of artwork and artifacts from across the globe, so there is a lot to see.
2. Saadiyat Public Beach
Attraction type: Beach/ Conservation
Home to the Hawksbill sea turtles, Saadiyat Beach has stunning views of the Gulf waters. Hundreds of turtle eggs have successfully hatched on the coasts of Saadiyat due to ongoing conservation efforts on the island, which ensures the protection of the turtles and their breeding grounds.
3. Sheikh Zayed Grand Mosque
Attraction type: Religious/ Architectural
Sheikh Zayed Grand Mosque is o ne of the most well-known places of prayer in the world that has ample space for more than 40,000 worshippers. Apart from being one of the largest mosques in the world, it is also the only one that depicts the various architectural connections Islam has with other cultures and features a beautiful fusion of classic and modern forms. The mosque was created by British, Italian, and Emirati architects and features architectural elements from Turkey, Morocco, Pakistan, and Egypt, to name a few. A courtyard with one of the biggest and most amazing marble mosaics, amethyst and jasper studded columns, gigantic swarvoski chandeliers, Guinness World Record-holding large hand-woven carpet and mirror-like ponds are few of the elements that transform this place in to a photogenic haven.
4. Ferrari World
Attraction type: Theme Park
Home to the world's fastest rollercoaster, Ferrari World is a majorly indoor theme park that entertains kids and adults with more than 20 Ferrari-inspired rides and attractions. The Tyre Change Experience is one such ride that assesses your ability to match the speed of F1 pit personnel. FOr a laidback experience, the Bell'Italia ride takes you through a miniature version of Italy in a 1958 Ferrari 250 California. You can see miniature recreations of famous Italian landmarks including the Amalfi Coast, the Colosseum of Rome, Venice, and Maranello, the home of Ferrari. The adventurous will have a great time at Turbo Track which gives an awesome zero-gravity plummet.
5. Mangrove National Park
Attraction type: Nature/Conversation
The expansive Mangrove National Park, which is located just outside of Abu Dhabi's city center, is a nature gem amidst the concrete structures. This stunning and captivating park is perfect for families, bird watchers, and photographers wishing to spend a few hours away from the bustle of the city. It is also one of the Emirate's most important biological assets, and is protected by the Environment Agency Abu Dhabi (EAD). A biodiversity hotspot with mangrove forests, salt marshes, mudflats, and algal communities, Mangrove National Park makes up around 75% of the UAE's total mangrove forest area.
6. Yas Marina Circuit
Attraction type: Adventure/ go karting
Yas Marina Circuit was built to enhance Abu Dhabi's reputation as a top-tier athletic and entertainment destination and is the most epic motorsports, sporting, and business arena in the UAE. Popular among international travelers, the Formula 1 Etihad Airways Abu Dhabi Grand Prix, kart racing at Yas Kartzone, drag racing at Yas Drag Night, and race training at Yas Racing School all take place on this renowned Formula 1® circuit throughout the year. For the TrainYAS program the circuit also includes walking, jogging, and cycling tracks.
Do and Don'ts When Visiting Abu Dhabi
Although you don't have to follow everything the locals do when you're in Abu Dhabi, you do have to abide by some regulations to avoid upsetting the locals or attract the attention of the Abu Dhabi Police.
Do's:
Respect prayer timings and religious sites. This includes wearing modestly if and when visiting such sites.
Dress modestly. Women stick to loose-fitting tops, dresses, skirts and pants that go below the knees. Men should wear long pants and short or long-sleeved tshirts or shirts.
Follow all traffic rules
Only drink alcohol in licensed bars, hotels or restaurants.
Smoke in designated areas only. Avoid smoking in public or government buildings.
Remove your shoes when visiting a local's home.
Eat with your right hand.
Don'ts:
Drink alcohol in public.
Drive under alcohol influence.
Take photos of strangers, especially women, without permission, or government buildings.
Eat food or drink in public during the fasting hours in the month of Ramadan.
Display excessive affection to your partner in public. This includes kissing and hugging.
Involve in drugs, human trafficking or any other illegal activities.