Liwa Desert Safari Packages 2023
Liwa desert safari is a unique opportunity to explore the vast and magnificent Rub al Khali, also known as the Empty Quarter.
Do you wish to make your stay in the UAE genuinely memorable and exciting? If yes-then an adventurous Liwa desert safari from Abu Dhabi is awaiting you! Liwa, the largest oasis in the Arabian Peninsula, is nestled on the southern edge of the Rub al Khali, an extended sand desert. It boasts awe-inspiring dunes that soar up to an astonishing height of 300 meters.
Furthermore, beyond its natural beauty, Liwa holds rich historical and cultural significance as it was once the ancestral residence of the ruling families of Abu Dhabi and Dubai.
What to expect in the Liwa Desert Safari?
The Liwa Desert Safari brings the opportunity to experience the thrill of dune-bashing activity on the world's tallest sand dune- the Tel Moreeb. Its soaring height of 300 meters and the steep inclines guarantees to offer a heart-pumping experience to all!
What is unique here?
The camels! Yes, you read it right. The camels native to the Liwa Desert are unique, unlike any other camels in the other regions of the UAE.
This breed of camel is called the Majaheem or Malah, and they are black in colour. These camels are among the greatest dairy producers in Saudi.
Besides its colour, a few other features that distinguish this breed from the rest are; its long legs and feet, long hair covering the body and a prominent hump in the middle of its back.
Dune bashing
The highlight of this desert safari is the dune-bashing expedition. Strap yourselves tight and endure a thrilling and adrenaline-pumping venture in the world of sand dunes!
Stargazing activity
Indulge in the serene beauty of the desert while soaking in the mesmerizing view of the twinkling star in the dark sky above.
Escape the city lights, the hustling bustling lifestyle and experience the sheer joy of spending a night in the open here in the desert.
Overview of Liwa Desert
Discover the captivating Liwa Desert, a mystical oasis in the UAE that is part of the Empty Quarter, where untouched beauty and ancient whispers unite. This golden expanse invites travelers seeking profound connections with nature's raw majesty. This helpful overview of Liwa Desert becomes an essential companion to navigate this mesmerizing terrain and uncover the numerous opportunities, creating an unforgettable and enchanting journey. Let the Liwa Desert work its magic and let this overview of the Liwa Desert be your compass to an unparalleled experience. This page will shed light on the Empty Quarter
Unveiling the Enigma: Exploring the Eternal Secrets of the Empty Quarter
Welcome to a realm where time stands still, where ancient sands whisper tales of a bygone era, and where nature's untouched grandeur reigns supreme. Welcome to the Empty Quarter desert, a place that defies the ever-changing world, preserving its awe-inspiring beauty as a sanctuary of tranquility and mystery. More than seven decades ago, the intrepid explorer Wilfred Thesiger ventured into this desert expanse, and today, the magic he encountered remains as potent as ever. As one of the largest and most pristine deserts on Earth, this ethereal expanse promises a journey like no other. Lose yourself in its boundless beauty as you wander through endless dunes, relishing the silence that envelopes you like a gentle embrace. As you embark on a 90-minute drive from Abu Dhabi, you'll find yourself amidst an enchanting landscape of infinite dunes that tower with a majestic personality. The Liwa Oasis beckons, offering a lush sanctuary amidst the vastness, while the unpolluted skies above present a dazzling canvas for stargazers. Step into a world untouched by time, where every moment is a testament to the grandeur of the Empty Quarter, an experience that completes your journey through the UAE, making it one of the most extraordinary and cherished terrains on Earth. The Empty Quarter embraces both tranquility and adventure, offering exhilarating escapades like sandboarding, dune bashing, and the timeless allure of camel trekking. Surrender to the enchantment of the wilderness and create memories that will last a lifetime. The call of the Empty Quarter beckons—embrace the untamed wonder and let your soul roam free amidst the splendor of this extraordinary desert. The journey of a lifetime awaits; the time to plan your adventure is now and this guide is going to help you make it easier.
Travelling to Liwa
There is a spectrum of options for travelers wanting to visit Liwa, each promising a unique and unforgettable experience. Whether you seek the thrill of a self-driven adventure, the convenience of public transport, the comfort of a taxi ride, or the expertise of a 4x4 safari operator, your journey to the mesmerizing Liwa Desert awaits.
Self-Drive
If you yearn for the freedom to explore at your own pace, a self-drive to Liwa is the perfect choice. Accessible by normal cars, the journey allows you to immerse yourself in the desert's captivating landscapes. From Abu Dhabi, embark on a 2-hour and 25-minute drive covering 242 km, while from Dubai, it's a 3-hour and 30-minute journey spanning 362 km. With Hatta, Ras Al Khaimah, Sharjah, Ajman, Fujairah, and Al Ain also within driving distance, you can chart your own course to this timeless desert oasis. However, if you wish to off-road, it is not possible to do so with a normal vehicle.
| Travelling from | How far to – Tal Mor'eb | How many minutes |
| --- | --- | --- |
| From Abu Dhabi (AUH Airport) | 242 km | 2 h 25 min |
| From Dubai (DXB Airport) | 362 km | 3 h 30 min |
| From Hatta (Hatta Fort Hotel) | 476 km | 4 h 40 min |
| From Ras Al Khaimah (RAK Airport) | 458 km | 4 h 23 min |
| From Sharjah (SHJ Airport) | 386 km | 3 h 43 min |
| From Ajman (Mall Ajman) | 392 km | 3 h 51 min |
| From Fujairah (Fujairah Beach) | 469 km | 4 h 34 min |
| From Al Ain | 338 km | 3 h 11 min |
Public Transport
For a more budget-friendly option, public transport offers a convenient way to reach Liwa. From Abu Dhabi, buses operate from the Central Bus Stand near Al Wahda Mall to Liwa's Mezairaa Bus Station. Timings vary, with departures at 9.20 am and 9.00 pm from Abu Dhabi, and 5.10 am and 4.15 pm from Liwa. The journey takes approximately 3 hours and 30 minutes, offering a chance to take in the stunning desert scenery along the way.
Taxi
Seeking a hassle-free journey with the comfort of private transportation? Taxis provide a convenient and efficient option to reach Liwa from various cities across the UAE. While taxis are readily available at the bus station in Liwa, it's essential to be mindful of the costs, especially for budget-conscious travelers. With most attractions located at a distance from the bus station, taxi fares can quickly increase. For those seeking economical options, local travelers are advised to consider renting a vehicle or booking a transfer with a local tour operator. These alternatives offer more cost-effective ways to explore the desert's wonders without breaking the bank.
4x4 Drive with Liwa Desert Safari Operator
For those craving an authentic desert adventure, a 4x4 drive with a reputable safari operator is an exhilarating choice. Offering morning, afternoon, evening, and overnight Liwa Safari experiences, these expert guides lead you on off-roading escapades through the captivating dunes. With pick-up services available from all parts of the UAE, you can effortlessly delve into the untouched beauty of the Empty Quarter, guided by seasoned professionals.
By considering these options, travelers can make the most of their Liwa experience while keeping their expenses in check, ensuring a rewarding and pocket-friendly journey through the enchanting desert landscape.
Where to stay in Liwa
When it comes to finding the perfect retreat in the heart of the Liwa Desert, four exceptional options stand out, each offering a unique and unforgettable experience.
Qasr Al Sarab Desert Resort By Anantara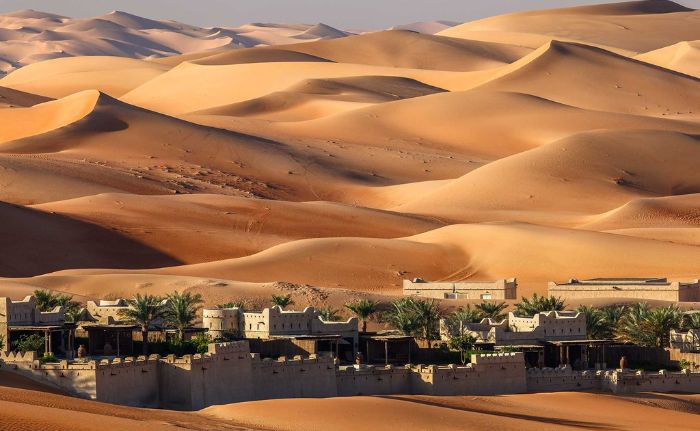 Qasr Al Sarab Desert Resort By Anantara is a luxurious and enchanting sanctuary nestled in the heart of Liwa desert, offering a fairytale-like experience far from civilization. With its arabesque exterior and exquisite interior details, the resort immerses guests in a realm of desert-inspired bliss. Stunning views of the surrounding dunes captivate visitors while a well-equipped gym, outdoor pool, tennis court, and spa facilities provide indulgence. The opulent interior with mellow tones and lush textures complements the luxury desert experience. Suites boast sliding glass doors that reveal magnificent desert panoramas. Guests can indulge in rain showers, deep baths, and a pillow menu for ultimate comfort. The Desert Excursion Centre offers a variety of adventurous activities like off-roading, camel trekking, archery, and more. While kids enjoy the kids club, parents can savor romantic evenings, spa massages, and a refreshing dip in the outdoor pool. Qasr Al Sarab creates an unforgettable desert fairytale, leaving cherished memories for a lifetime.
Resort Tilal Liwa Hotel - Madinat Zayed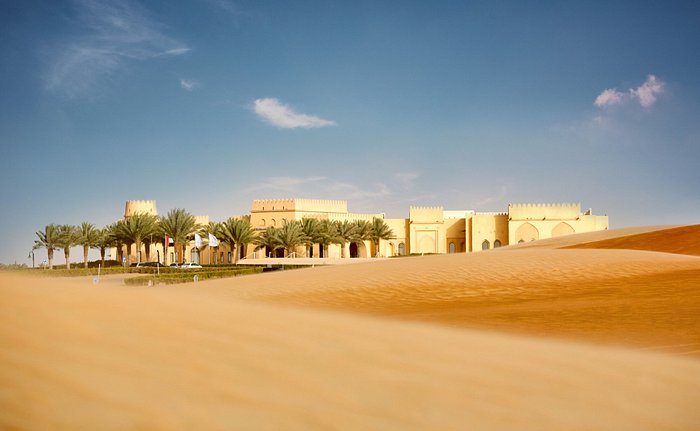 Resort Tilal Liwa Hotel is a captivating and luxurious accommodation option in Liwa. This 4-star gem seamlessly combines luxury with the mesmerizing beauty of the Empty Quarter. Guests can enjoy breathtaking views of the vast desert expanse and unwind in the resort's infinity pool and sunbathing terrace. The spacious air-conditioned rooms feature traditional Arabesque decor, and some offer furnished balconies with panoramic views. With satellite TV and luxurious toiletries provided, comfort and style are evident throughout. The resort's two restaurants, Al Liwan and Al Badiya, offer a delightful array of local and international cuisine, with serene garden views and live cooking experiences. For those seeking adventure, sandboarding, desert safaris, and steam baths promise unforgettable experiences in this mesmerizing desert setting.
Bab Al Nojoum Bateen Liwa
Bab Al Nojoum Bateen Liwa is a hidden gem in the majestic Liwa desert, where ancient Bedouin traditions blend seamlessly with modern comforts. The retreat offers luxurious rooms adorned with traditional elements, creating an enchanting ambiance. Guests can indulge in Arabian hospitality, savoring local cuisine while being captivated by Bedouin tales and cultural performances under the starry sky. The desert adventure awaits at sunrise, guided by experienced hosts to explore the desert's hidden treasures. Bab Al Nojoum Bateen Liwa is a magical portal to the heart of Arabia, offering a world of wonder and discovery for every guest.
Liwa Nights Bedouin Glamping Retreat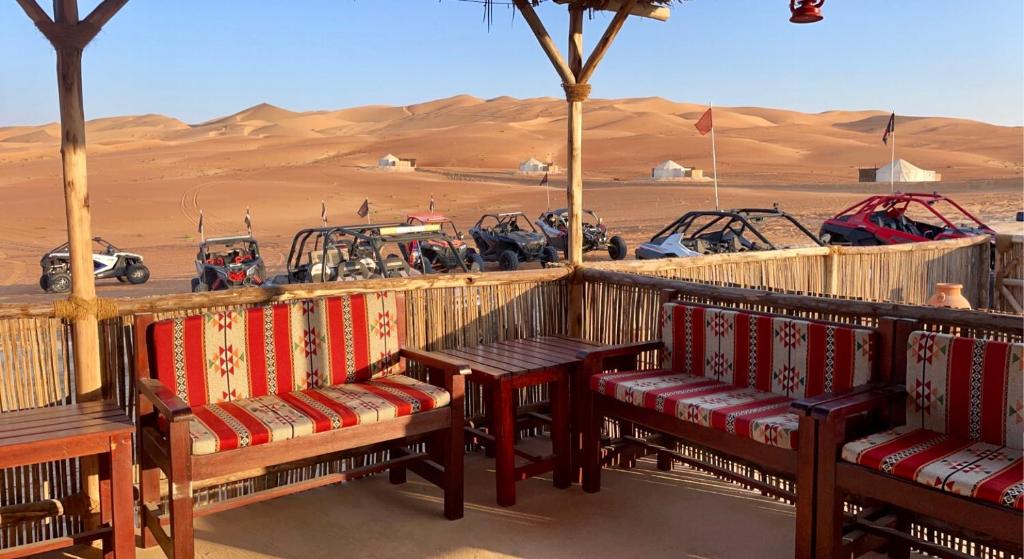 Liwa Nights Bedouin Glamping Retreat offers a captivating and authentic desert experience, blending ancient Bedouin traditions with modern luxury glamping. Nestled amidst the golden dunes of Liwa, this retreat invites adventurous souls to indulge in a unique Arabian hospitality. Luxuriously appointed Bedouin-style tents create a sense of timeless allure, while evening festivities feature savory Arabian delicacies, enchanting music, and stargazing under the unpolluted desert sky. Thrilling camel treks, sandboarding, and serene desert silence add to the unforgettable experience. Liwa Nights is a portal to an extraordinary Arabian adventure, leaving cherished memories to linger long after departure.